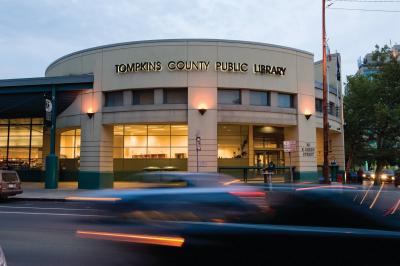 Search for New Library Director Underway
The search for a new director for Tompkins County Public Library (TCPL) is actively underway with a national advertising campaign and a 15-member search committee. Interested applicants are encouraged to review online information about the library and the position and to apply on the Tompkins County Human Resources application site by February 15.
"This is a national search," says Search Committee Chair Blixy Taetzsch, who also serves as Secretary of the Library's Board of Trustees. "We are looking for a dynamic leader and communicator who is passionate about expanding library access and continuing TCPL's commitment to excellence."
The Search Committee is comprised of members of the TCPL Board of Trustees and staff, as well as representatives from Tompkins County government, the TCPL Foundation, the Friends of the Tompkins County Public Library, the Finger Lakes Library System and community members at large.
"Candidates should note that this is a Civil Service position. It does require an exam, but it's not an exam in the traditional sense," explains Taetzsch. "Rather, it's an online form with questions about relevant experience and education."
Applicants can learn more about the process by reviewing the New York State Library Association Guide to Civil Service in New York State and by visiting the Tompkins County Human Resources website.
The TCPL Board announced in November that Library Director Annette Birdsall would retire in May 2021.
For more information about the position, please contact TCPL Business Manager Michelle Benjamin at mbenjamin@tcpl.org or call 607-272-4557 ext. 228.
About Tompkins County Public Library
Located in Ithaca, New York, and founded by Ezra Cornell in 1864, Tompkins County Public Library is an award-winning library with a storied history. TCPL's central vision is to create a library "where everyone can belong and find joy in learning, discovery, and personal growth." Fine-free since 2019, TCPL serves the approximately 102,000 residents of Tompkins County, as well as library users in Cayuga, Cortland, Seneca, and Tioga counties through its role as the Central Library for the Finger Lakes Library System.
During the COVID-19 pandemic, the Library staff has worked to develop creative ways to continue to serve the public. Examples include book bundles, curbside pickup, in-person Internet browsing, online programming, social media book and movie breaks, and "Book a Librarian" One-on-One Virtual Appointments," among other efforts. Express browsing also re-opened January 5 and is available Tuesdays and Thursdays from 10:00 a.m. - 1:00 p.m. and 2:00 p.m. - 6:00 p.m, and Saturdays from 10:00 a.m. - 1:00 p.m. and 2:00 p.m. - 5:00 p.m.
Tompkins County residents who do not have a library card can apply for one online at https://www.tcpl.org/getting-a-card-online. Community members interested in supporting the Library's work are encouraged to visit https://www.tcplfoundation.org/.