Visual Arts in Medicine
Cornell University
November 2021-January 2022
Avenue of the Friends
Visual Arts in Medicine is a club founded by students at Cornell University. Our objective is to raise awareness of important public health issues like disease transmission, mental illnesses, and more to the general public through art in a collaborative group setting.
The focus of this exhibit is on the most recent public health crisis: the COVID-19 pandemic. One of the symbols of the pandemic has been the face mask, which has played a quintessential role in keeping everyone safe. The goal of this exhibit is to encourage community members to continue wearing face masks and to dispel any negative connotations people may associate with them. We hope to cast a new light on masks as a medium of self-expression and an enabler of community engagement rather than as indicators of disease.
Janice Indajang, "Blooming Mask"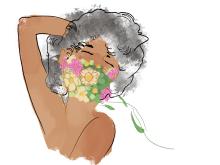 Even though masks are usually a symbol of anonymity, the Covid 19 pandemic has made them a means of self expression. The Blooming Mask shows the rich creativity that blooms under new circumstances.
Ethan Carlson, "Of Many Masks"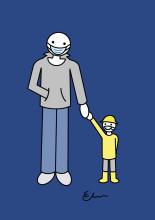 In these uncertain times, everyone can feel like they are alone in the fight against COVID-19. These four drawings are meant to be a reminder to all of those in doubt, that it is the small individual changes that prove we are all in this together. Wearing a mask is a small change that can make a big difference.
Nadia Sadati, "Identity"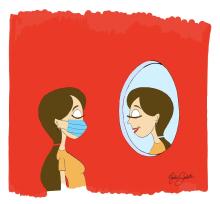 Nadia Sadati, "Identity"
With COVID-19, masks have now become a major part of our everyday lives, shielding a part of our identities. However, mask on or mask off, you are still you; your identity is persevered no matter what.
Emme Wong, "Tessellations"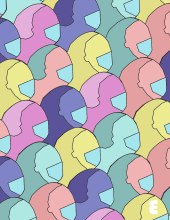 The woven texture of masks inspired the concept of a woven community- people joining together through the wearing of masks. They are interlocking pieces which emphasize tight-knit relationships and our dependence on each other to make it through this pandemic.
Hope Cross-Joya, "Coming Together"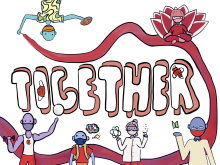 Everyone from different backgrounds is still able to find a shared space of community in the active participation and collective consciousness of staying safe during the pandemic in mask-wearing.
Zuzanna Krzykalska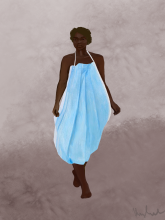 "Masks as Fashion"
Can you imagine a medical mask on a runway? The wrinkled, rigid material, surgeon-blue color, awkward fit… how could they influence the styles and forms of garments… The artwork discusses the concept of masks as fashion.
"Breathe"
Have you ever had a feeling of breathing your mask in and out? Where is the air that you exhale? Where does it go and came from? The work aims at grasping the idea of literal breathing space and the feeling of spatial dimension of breathing.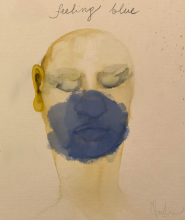 "Scents"
Look at the first picture (with no masks) can you guess what they feel, think and what mood they are in? Now look at the same face wearing different colors / scents: can you spot the sadness, intensity, slight smile, calmness, blush… The work aims at showing a mask as a filter through which we see not only a face but the very person as well.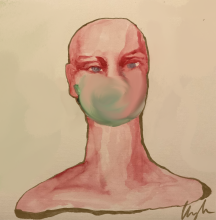 "Twist"
The work plays with the idea of blending the face mask onto the face like makeup.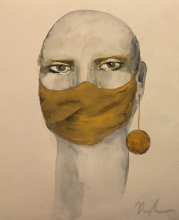 "Accessorize"
Do we already treat of masks as accessories – like hats, scarfs, earrings? The work stresses the visual aspect of mask that is functionally similar to the one of jewelry and other accessories.