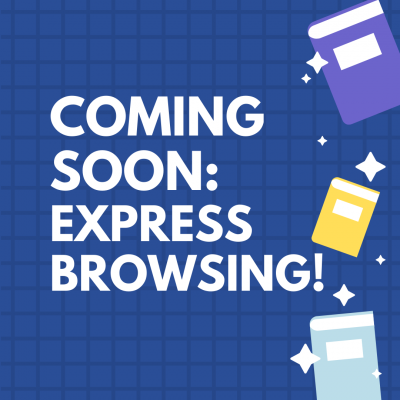 Express Browsing
We reopen for Express Browsing on January 5, following local and state health guidelines. Please note that the situation will evolve, and that we will update you as needed.
See below for answers to your most pressing questions!
What is Express Browsing?
We're opening for limited, 30-minute browsing sessions during which you can select items to check out.
When is Express Browsing available?
You can browse during our lobby days on Tuesday and Thursday from 10-1 & 2-6, and Saturday from 10-1 & 2-5.
How do I browse?
Like everything, it's a little different these days. You'll enter the library on the south side of the building (just past the Ezra Cornell mural). You'll be able to browse all of the stacks throughout the library, select items to check out, and then head to the circulation desk. You'll exit the building through the door facing Green Street.
A mask covering both your nose and your mouth is required at all times. We ask that you practice social distancing and use hand sanitizer before touching any items.
What else can I do on browsing days?
Our hold pickup, internet, and copy/fax/print services will be available, as will reference (in the adult, teen, and kids' areas), and test proctoring (by appointment).
WiFi is available at our internet stations.
What are the safety guidelines for Express Browsing?
Using the Governor's directive laid out in the NY Forward Plan, we're following the protocol for the Cluster Action Initiative. If Ithaca City School District enters the Yellow Zone, we will remain open for browsing. If ICSD moves to Orange or Red (that is, the entire district moves to remote-only), we will discontinue browsing until we get the all-clear.