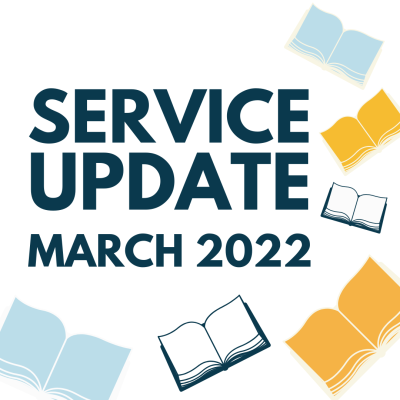 Service Update, March 2022
With the lifting of many COVID-19 restrictions in New York, we continue to revise and update our services here at TCPL.
Masks are encouraged, in accordance with Tompkins County Health Department guidelines.
Our hours are Monday-Thursday, 9 am - 8 pm; Friday, 9 am - 6 pm; and Saturday, 10 am - 5 pm (Computers & Reference are available at 9:30 am on weekdays). Curbside is offered Monday, Wednesday, and Friday from 10-6.
Computer sessions have increased to 60 minutes.
Study rooms are available on a first-come, first-served basis.
Chairs and tables have been returned and can be used for reading, studying, and meeting with others, with no time limits.
Books can be returned inside the building using the book drops near the circulation desk or outside using the "always open" drops along the wall to the left of the entrance. Additional drops may be open and will be labeled as such.
We will continue to offer virtual, hybrid, and in-person programs. As the weather warms, we will add outdoor programming to our event roster.
We will continue to offer Book & Binge Bundles and have expanded our Library by Mail service to increase access to our materials.
The Makerspace is now available for teens and adults to use during one-on-one sessions and scheduled drop-in sessions. Please visit our event calendar for more information.
As always, if you have any questions, please email askalibrarian@tcpl.org or call 607-272-4556.
We're glad to see you!