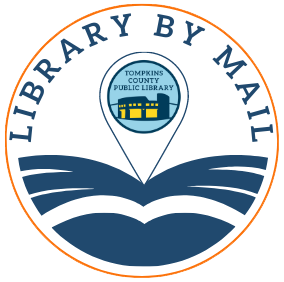 Our Library by Mail service provides library materials to residents of Tompkins County who are physically unable to visit the Library. Patrons registered with the Library by Mail service may receive up to seven (7) items at a time delivered by the US Postal Service to their residence.
Frequently Asked Questions:
Who is eligible for this program?
To be eligible for Library by Mail, you must meet all three of the following criteria:
Live within the boundaries of Tompkins County
Possess or be willing to sign up for a Tompkins County Public Library card or a library card from another library in Tompkins County
Unable to get to the library
Typical qualifiers may include those:
Temporarily or permanently homebound and/or in a convalescent home
Concerned and/or at risk due to the current COVID-19 pandemic.
Experiencing difficulty getting to the library due to a disability or mobility issues
How do I sign up?
Complete the online form, email LBM@tcpl.org or call 607-272-4557. 
How do I request materials?
Books, audiobooks, DVDs, CDs, and magazines can be requested by placing a hold through our online catalog or by calling 607-272-4556. Ask us about our digital library!
How many items can I borrow at a time? How long can I keep the items?
Seven (7) items at a time may be borrowed for three weeks.
What if I'm late returning items? What if items are lost or damaged?
TCPL does not charge fines for late items. TCPL does not charge for lost or damaged items.
Who pays for postage?
We do! Funding for this program has been provided by a generous grant from Cornell University.
Do I need a Tompkins County Public Library card to participate?
Yes. If you don't have one, you can fill out the online card application.