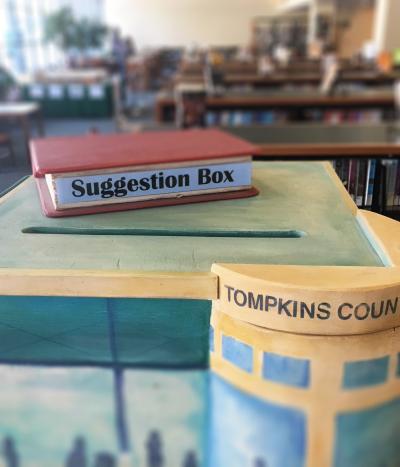 Patron Comments
December 2019 Patron Comments
Comment: How do patrons know which Sundays the library is open? It's confusing.
Response: We are open 18 Sundays per calendar year (9 in spring, 9 in the fall) thanks to funding from the Town of Ithaca. You can view our open hours on our Hours, Location & Contact page. All of our open and closed Sundays are also marked on our Events Calendar.
Comment: Is it possible to get a satellite drop-off point for books? It's challenging to get here from locations outside downtown.
Response: We have explored the possibility, but haven't found a viable alternative yet. You can, however, return books at any library in the Finger Lakes Library System, including the five rural libraries in Tompkins County: Dryden, Groton, Newfield, Lansing, and Trumansburg. The Finger Lakes Library System also has a book return at their location, 1300 Dryden Road, Ithaca.