Expansion of In-Person Hours Beginning June 1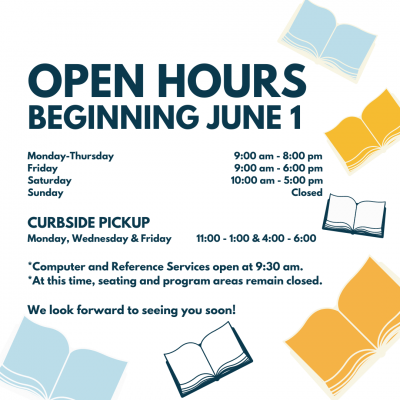 Expansion of In-Person Hours Beginning June 1
Exciting news!
Beginning Tuesday, June 1, 2021, our hours are changing!
Open Hours
Monday-Thursday      9:00 am to 8:00 pm        
Friday                           9:00 am to 6:00 pm        
Saturday                      10:00 am to 5:00 pm    
Reference desks and internet stations will open at 9:30 am, Monday through Friday, and 10:00 am on Saturday.
We are requesting that all patrons wear a mask. Our patrons include a younger audience that is unable to be vaccinated at this time. In order to set an example for them, and in an abundance of caution to be sure that they and others unable to be vaccinated are safe, we ask that all patrons continue to wear masks. Thank you.
Please note: As of June 1, we will no longer need to use the entrance on the south side of the building, as our new Green Street entrance makes it possible for two-way traffic. Just walk in like we used to, in the before times.
Curbside Service (no appointment necessary!)
Monday, Wednesday & Friday, 11:00 am to 1:00 pm & 4:00 to 6:00 pm
Following state and local health guidelines, expanded in-person hours are slated to begin on June 1. As the situation is continuously evolving, keep an eye out for the latest information here on our website and our Facebook, Instagram, and Twitter feeds.
We look forward to seeing you!