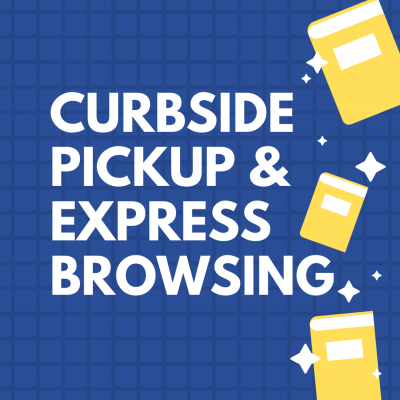 Curbside Pickup & Express Browsing
We are pleased to announce our limited reopening for Curbside Pickup and Express Browsing of TCPL library materials! See below for answers to your most pressing questions. (Updated March 2, 2021)
Why is TCPL reopening?
When Governor Cuomo released his New York Forward plan, libraries were initially deemed to be part of Phase 4 along with education and entertainment. Recently, however, aspects of library service have been reclassified as belonging to Phase 1 (retail limited to curbside pickup or in-store pickup). Along with the other libraries in Tompkins County, TCPL has created a plan to offer hold pickups (both in-lobby and curbside). Express Browsing was added on January 5. This phased reopening plan takes into consideration all state and local health mandates, and aims to keep staff and patrons as safe as possible.
What services is TCPL offering?
We are able to offer Curbside Pickup of holds and Express Browsing on the following days:
Curbside: Monday, Wednesday, and Friday
10:00 am - 1:00 pm
2:00 - 6:00 pm (building closed from 1-2 pm)
Express Browsing: Tuesday, Thursday
10:00 am - 1:00 pm
2:00 - 6:00 pm (building closed from 1-2 pm)
Express Browsing: Saturday
10:00 am - 1:00 pm
2:00 pm - 5:00 pm (building closed from 1-2 pm)
We are now able to offer limited Internet and Copy/Fax Print Services on Tuesday, Thursday, and Saturday during our Express Browsing hours.
How do I place a hold?
You can place a hold as you normally would, using the online catalog or by calling 607-272-4556. You will receive a notification once your hold is ready. Once you receive the notification, you can choose to take advantage of our in-lobby drop-in hours or schedule a curbside pickup. Note that same-day pickup is not possible.
How do I schedule a curbside pickup?
If you would like to use our curbside pickup service, place a hold on an item and wait until you receive a notification that your hold is ready. When you're ready to pick up your items, pull into one of the three marked spots on the Cayuga Street side of the library, and call the number designated on the sign. Please remain in the spot so we know where to find you! A staff member will bring your items out to you to place in your car's trunk or back seat. Again, this process is completely contact-free, but we do ask that you wear a mask during curbside pickup.
Note: as of November 30, you no longer need to make an online appointment for curbside pickup.
What is Express Browsing?
We're opening for limited, 30-minute browsing sessions during which you can select items to check out, on Tuesdays & Thursdays from 10-1 & 2-6, and Saturdays from 10-1 & 2-5. No appointment is needed.
You'll enter the library on the south side of the building (just past the Ezra Cornell mural). You'll be able to browse all of the stacks throughout the library, select items to check out, and then head to the circulation desk. You'll exit the building through the door facing Green Street.
A mask covering both your nose and your mouth is required at all times. We ask that you practice social distancing and use hand sanitizer before touching any items.
On Express Browsing days, our hold pickup, internet, and copy/fax/print services will be available, as will reference (in the adult, teen, and kids' areas), test proctoring (by appointment), and some account services at the circulation desk.
Can I return items while I pick up my holds or browse?
Express Browsing and Curbside services are limited to the pick-up of materials only. For safety reasons, returns must be made in the open outside bookdrops (marked with a yellow sign). Due to the 72-hour quarantine requirement for materials, no items can be brought into the building or returned to staff. Please keep this in mind while you plan your trip to TCPL.
If you have book club kits, storytime kits, or board book bundles to return that will not fit in the bookdrops, you can hand them to a staff person on Curbside Pickup days or place them in the quarantine cart by the entrance on Express Browsing days.
If you have mobility limitations that prevent you from accessing the outside bookdrops, please call 607-272-4556 or email askalibrarian@tcpl.org and a librarian can help you with this process.
Are library materials safe?
Safety guidelines outlined by the American Library Association recommend a 48 to 72-hour quarantining of materials. We are quarantining materials for 72 hours. Staff are required to wear masks and gloves while processing holds for pickup. We recommend you use the same safety guidelines for bringing outside items into your own home.
When will the library fully reopen?
We are planning a staged reopening which began with holds pickup in June, limited internet service added in mid-August, and Express Browsing added January 5. Currently we are unable to offer our public spaces for community use. Safety of our patrons and staff is our number one priority, so we thank you for your patience!
What else do I need to know?
Part of the reopening plan requires separate entrances and exits for staff and patrons. You will be asked to enter the building on the south side, through the door just beyond the Ezra Cornell mural. Please note that masks and six feet of social distancing are required to enter the building. You will be able to exit the building through the lobby facing Green Street.
Safety guidelines mandate a limit on building capacity, so patrons may need to wait at the entrance to be allowed in. Staff will be monitoring the limit and guiding patrons through the library.
Thank you for your patience as we move towards welcoming you back into our building. Please contact 607-272-4556 or email askalibrarian@tcpl.org with any questions. We look forward to seeing you soon.