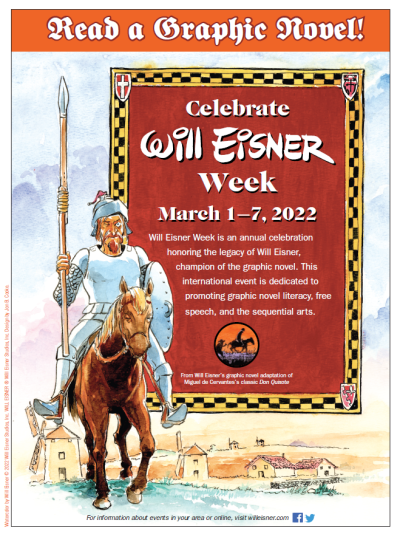 Will Eisner Week, March 1-7
Will Eisner Week is held every March, celebrating comics, graphic novel literacy, free speech, and the legacy of comics legend Will Eisner. This year, we'll be celebrating with a series of virtual and in-person events! Find out more at the links below.
 
Tuesday, March 1: Cartooning Basics with Illustrator Corinne Roberts
Wednesday, March 2: Scratch Building Mecha and Robot Miniatures
Friday, March 4: The Best Comic I Read This Year...
Monday, March 7: Virtual Panel by Panel Graphic Novel Book Club
All week long: Create your own comics!
During Will Eisner Week, patrons can make their own comics with free blank four panel comic strips. You can find the strips in the Teen Center, Youth Services, and Adult Services. If you would like to share your comic with us please email a picture or scan to tcpllibrary@gmail.com.