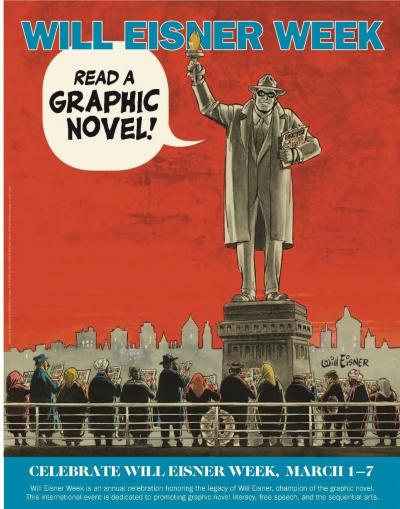 Will Eisner Week, March 1-7
Will Eisner Week is held every March, celebrating comics, graphic novel literacy, free speech, and the legacy of Will Eisner. This year, we'll be celebrating with a series of virtual events and a Take and Make Kit for kids and families!
Monday, March 1: Virtual Panel by Panel Graphic Novel Book Club
Tuesday, March 2: Cartooning Basics with Illustrator Corinne Roberts
Friday, March 5: Beyond BANG, WHAM, and POW: How to Create Compelling Narratives in Comics
All week long: Take and Make Kits for Kids and Families!
These free kits contain everything kids need to make their own comic strip. While supplies last, families can pick up a kit during express browsing days or with their curbside pickup.
When using curbside pickup, please indicate your interest in a kit when you call to notify us of your arrival. Be aware that supplies are limited and we cannot guarantee there will be kits available. On express browsing days, simply pick one up in the lobby area. Please contact Kate DeVoe with any questions about the kits at kdevoe@tcpl.org. Happy crafting!
Take a look at last year's TCPL Community Comics Anthology!
Eisner Award Winning Graphic Novels