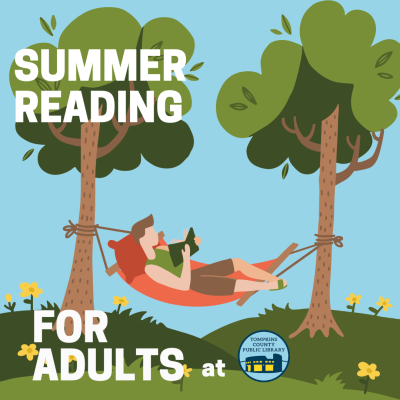 Summer Reading Program for Adults
Remember summer reading programs when you were a kid? Read 10 books and get your own pizza? Or stickers. Or…more books? Well, TCPL's 2023 Adult Reading Program will take you back to those fun times, all just for doing what you love — READING! Submit reviews, complete a Summer Reading BINGO form, attend summer programs, or heck, do all 3 and each time you will be entered to win one of our amazing raffle prizes. Prizes will be awarded at our end of SRP party! 
Submit  book reviews at the reference desk or online with this Google form. Have we mentioned that we will be giving books away for adults at the reference desk? Stop by the reference desk and ask for a book to get you started!
Summer Reading BINGO forms are available at the reference desk (or download the PDF below). Submit your completed form there or email a picture of your game board to programs@tcpl.org 
Attend any library event or program between June 25 and August 5, including Break for Movies (Mondays at noon on Facebook) or Break for Books (Wednesdays at noon on Facebook).
Our End of Summer Reading party and raffle will be held on August 10.  Each activity completed earns you a ticket for our prizes. The more you do, the more chances you have to win! Write reviews! Play BINGO a few times! Attend programs! You could be the winner of one of our amazing prizes!