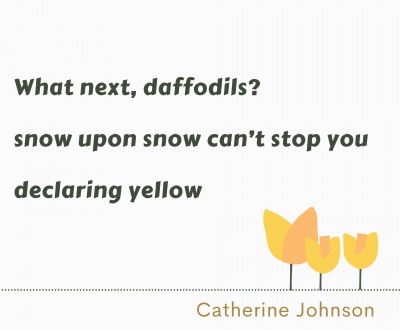 Social Solidarity Haiku Window Display
We're pleased to present a Social Solidarity Haiku window display, now through May 15, 2021!
Viewable from the North Reading Room windows facing Green Street, these original haiku were created by community members during three separate Social Solidarity Haiku workshops held throughout the pandemic. The workshops were led by former Tompkins County Poet Laureate Melissa Tuckey, and were offered to help raise the community's voices with frontline essential workers. The display was designed in collaboration with Makerspace Librarian Cady Fontana.
Tuckey is author of Tenuous Chapel, a book of poems selected by Charles Simic for the ABZ First Book Award and Ghost Fishing: An Eco-Justice Poetry Anthology, published by University of Georgia Press, 2018. She's a literary activist and co-founder of Split This Rock, a national poetry organization dedicated to lifting up culturally and stylistically diverse poetry of provocation and witness.
This project was funded with support from Tompkins County Legislature.