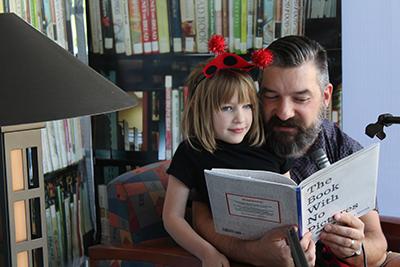 Get Ready for the 2018 Readathon!
TCPL's Readathon, the annual read-out-loud fundraising event, will take place beginning at noon on Saturday, September 29 and will run for 24 hours straight, till noon on Sunday, September 30. In its sixth year, the Readathon enlists readers to raise funds for TCPL, culminating in a 24-hour celebration of reading out loud outside our building on Green Street. The goal for this year's Readathon is $25,000, which will be used to purchase materials for our collection, such as books, movies, music, and more.
This year, a new option has been added for those unable to participate in the event on-site: a Virtual Readathon. As a Virtual Reader, you can raise funds just like the on-site readers, but you can choose to read for a 30–minute stretch at any time Saturday or Sunday, wherever you want: the beach, the bus, the tub, a favorite cozy chair, in a tree. Virtual Readers participate by sharing photos and videos of their Read to Facebook, Twitter & Instagram using #Readathon2018. There will be special prizes for Virtual Readers, too.
To sign up for the Virtual Readathon, or for more information, contact Kerry Barnes at kbarnes@tcpl.org or 272-4557 ext. 232.
There are still some slots available for on-site Readathon readers. Go to www.tcplfoundation.org/readathon to see what times are free and to sign up.
The 2018 Readathon is sponsored by Calf Audio, Ithaca Journal, Ithaca Times, Ithaca Voice, Tompkins Weekly, and Wegmans.