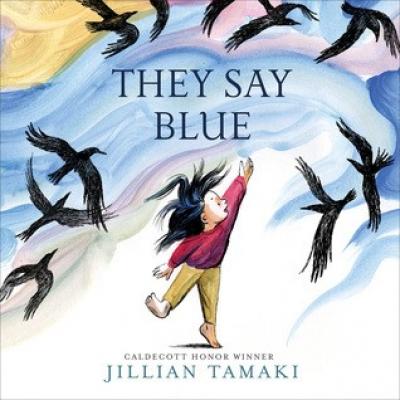 Illustration Spotlight: New & Notable Picture Books
Looking to feel inspired by some exceptional illustrators?  Below are some personal recommendations of great new picture books published so far in 2018.  Visit the library to check them out!
They Say Blue written and illustrated by Jillian Tamaki
A young girl describes where she finds colors in both the world around her and beyond what she can see.
Drawn Together written by Minh Lê, illustrated by Dan Santat
A boy and his grandfather cross a language and cultural barrier using their shared love of art, storytelling, and fantasy.
Hello Lighthouse written and illustrated by Sophie Blackall
Explores the life of one lighthouse as it beams its message out to sea through shifting seasons, changeable weather, and the tenure of its final keeper.
Love written by Matt de la Peña, illustrated by Loren Long
This heartfelt celebration of love, depicts the many ways we experience this universal bond, which carries us from the day we are born throughout the years of our childhood and beyond.
Julian is a Mermaid written and illustrated by Jessica Love
In an exuberant picture book, a glimpse of costumed mermaids leaves one boy flooded with wonder and ready to dazzle the world.
A House that Once Was written by Julie Fogliano, illustrated by Lane Smith
Deep in the woods is a house, just a house, that once was--but now isn't--a home. Who lived in that house? Who walked down its hallways? Why did they leave it, and where did they go?
Islandborn written by Junot Díaz, illustrated by Leo Espinosa
Lola was just a baby when her family left the Island, so when she has to draw it for a school assignment, she asks her family, friends, and neighbors about their memories of her homeland...and in the process, comes up with a new way of understanding her own heritage.
-Alice, Youth Services Librarian