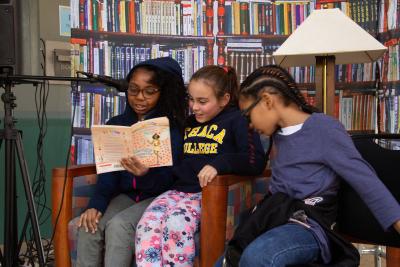 15th Annual READATHON!
The 2023 READATHON is scheduled for Saturday, April 15, and will include readers in-person at TCPL, from 10:00 am to 8:00 pm, as well as pre-recorded video readers to follow.
Our signature annual fundraising event, the READATHON is powered by passionate library users sharing their love of reading, books, community--and the Library! On one special day each spring, these intrepid reader-fundraisers share their favorite fiction, poetry, nonfiction, speeches, personal writing, memoir--you name it--and demonstrate the powerful impact private donations make for our community and our Library. 
To support your favorite reader(s), go to our event page here.
To see the schedule of in-person readers, go here.
READATHON 2023 is sponsored by Wegmans, Bousquet Holstein PLLC, M&T Bank, and Visions Federal Credit Union.