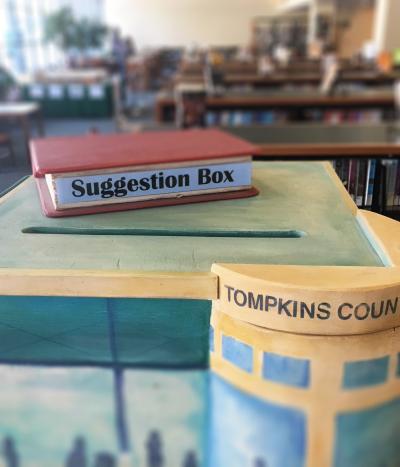 Patron Comments
Patron Comments from July 2019
Comment: It would be nice to have some benches outside to sit on when you are waiting for your ride. Thank you!
Response: Benches do make waiting much easier. The property does not belong to the library, but the County does have benches on Green Street for that purpose.
Comment: Request / Please fix the machines instead of forcing the user to compensate for TCPL. Technicians not accommodating user's technical complaints which are based in fact, not on user incompetence.
Response: The library makes every effort to have well-functioning computers and assists users through one-on-one help as reference staff time allows and by appointment. Please continue to keep us informed of your technology needs.
Comment: With parking so troublesome near TCPL, it would be fabulous to have either: 1) a drive-thru book return, or 2) remote drop-offs (ex. East Hill Plaza, etc.)
Response: There are book returns at all of the libraries in the County and at the Finger Lakes Library System on Route 366. We agree that more would be wonderful. Did you know your materials can be returned at any library in the Finger Lakes Library System?
Patron Comments from June 2019
Comment: I am waiting for 2 books (new books!) that are long overdue. Your new fine system is not working, thank you!
Response: We are so sorry that the wait is sometimes long. However, we have been tracking our returns and our system works as it always has. Fines allowed some people to hold onto materials as long as they wanted and actually encouraged late returns for those that could afford the privilege. Please let one of our circulations staff know about the issue, so we can determine if another copy would be possible.
Comment: It is really nice to have such pleasant people working at the Circulation desk.
Response: Thank you! It's our pleasure to serve our community. Our goal at the library is to connect people with the reading material and information they request so their experience helps them discover, connect, and create.
Comment: Long waiting time for circulation service.
Response: We're sorry for the wait. In our quest to create a library where everyone can belong and find joy in learning, discovery, and personal growth, the circulation time can take longer than the simple check-out of materials. Thank you for your patience and understanding, and please know that we are mindful of everyone waiting.
Comment: 3 words. Baked Potato Bar
Response: Sounds yummy. We do offer an eating area, but food service isn't in our immediate plans.
Patron Comments from May 2019
Comment: Groundswell Conference looked wonderful and brought to the library wonderful people. (I was just doing childcare.) Thanx TCPL! What a great library!
Response: Community use of the library's meeting room space is exactly the welcome we strive for at TCPL – your library!
Comment: Thank you for making TCPL "Fine Free!" Also, I love that you placed a drop box around the corner now that parking spaces out front have been taken by buses.
Response: You're welcome. Being fine free allows the library to share our resources respectfully with everyone. Thanks for your support! We are glad that the additional book drop and Cayuga Street parking are a help with this community challenge.
Comment: I just borrowed/returned one of "the Great Courses" lectures – in GCO's – and very much missed not having the booklet that was made for it. The lecture series – very well done. Would have gained greatly with its inclusion. (Origins of Great Ancient Civilizations CO 930 Harl)
Response: We're sorry the booklet was not included. We have asked our librarians to see if a replacement copy is available.
Comment: Fewer screens in the library, please!
Response: We understand your concern about the prevalence of screens; although we do need to balance the need of patrons lacking those resources to access them at the library, and our need to communicate. The library isn't exempt from the digital age, and we hope you do enjoy the screen free reading areas of the library.
Comment: Stop printing receipts, since email reminders and fine free.
Response: Thanks for your suggestion. Some people do not receive email receipts; others want a printed receipt to help with returning materials. We are looking at making these options available as a patron choice rather than an automatic print.
Comment: Please do not heavily invest resources in BluRay DVDs movies – it's a dead end tech, like Sony Beta Max – technically superior but D.O.A/in market.
Response: You're right that format changes create collection challenges. We purchase for immediate patron use and do our best to manage the changes including offering electronic (downloadable) options.
Comment: Strobe Edge #5 please!!! (Graphic novel Manga)
Response: Thank you for your suggestion. This request has been shared with our Librarians. You can also make purchase suggestions directly at: https://www.tcpl.org/form/suggest-a-title.
Comment: Please put A Modern Day Guide to Witchcraft by Skye Alexander in the collection. -A sincere patron request
Response: We sincerely respect all our readers' recommendations and reading preferences. This request has been shared with our Librarians. You can also make purchase suggestions directly at: https://www.tcpl.org/form/suggest-a-title.
Comment: Just wanted to say how much my family and I love TCPL! We come regularly and there is often more to do than we can fit into our (several-hour) visit! And then we get to go home with a giant stack of wonderful new books. Thanks to all the fantastic staff that make the library so amazing.
Response: Thank you for taking the time to thank us. We share your joy and this feeling so eloquently expressed by author Ursula LeGuin: "I remember the first time I came outside from those endless, incredible stacks I could barely walk because I was carrying about twenty-five books, but I was flying," from "My Libraries," in The Wave in the Mind, 2004.