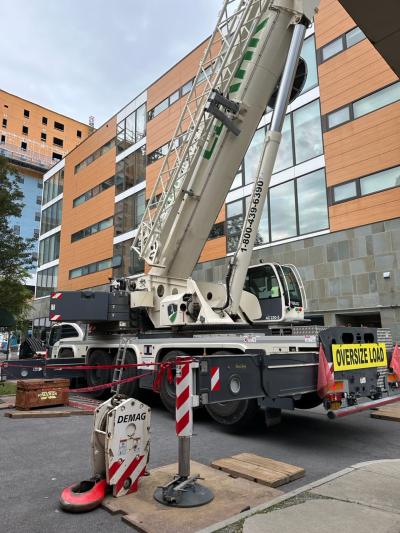 Planned Closure for Construction, September 15 - October 2
We will be closed while Tompkins County facilities updates our building's heating, ventilation, and cooling (HVAC) system, beginning Friday, September 15 and concluding on Monday, October 2. Reopening is planned for Tuesday, October 3.
The HVAC project will make the library facility greener and more efficient by updating controls, chillers, boilers, air handlers, and ventilation fans. These changes will help reduce the library's carbon footprint and support Tompkins County's green goals for a sustainable future. During the closure, staff will have the opportunity for robust professional development offsite. Topics covered will include sexual harassment prevention, programming philosophy, and identifying community needs, in addition to connecting with libraries at Ithaca College and Cornell University.
Read on for more information!  
When will TCPL be closed and why?  
TCPL will close Friday, September 15 through Monday, October 2. We plan to reopen on Tuesday, October 3. We are closing so the County can update our HVAC system to be more sustainable and to operate more effectively. No one will be allowed inside the library during the project, including staff. Patrons will not be able to browse our shelves or pick up holds at TCPL. 
We are adjusting due dates, so you shouldn't have anything due while we're closed, and the book drops at the front of the Library will remain open.  
Staff can help you adjust your holds queue and/or pick another Tompkins County or Finger Lakes library as your pickup location.  
Why is TCPL updating their HVAC system? 
The Library is maintained by Tompkins County and the County Facilities department identified the Library's HVAC system for updates and replacements as part of their maintenance plan. The systems are becoming outdated and need work to remain optimally operational. 
How does this HVAC project benefit TCPL and the public? 
An updated and improved system will make the facility more environmentally friendly, more energy efficient, help the building heat and cool better and more consistently, and prevent maintenance issues in the future. This means the Library will remain nice and cool in the summer and warm and dry in the winter.  
What is the best way to get updates about the project? 
Our website is the best way to get the most accurate and updated information about the project. You can also use the website to browse the catalog and learn more about our digital services! 
What library services are available during the closure?  
We're glad you asked! We invite you to try our amazing digital services – all free with your library card 24/7!  
Libby – Use online at libbyapp.com or download the Libby app to your phone or tablet for ebooks and audiobooks 

Hoopla – Use online at hoopladigital.com or download the Hoopla app to your phone or tablet for audiobooks, comics, ebooks, movies, music, TV, and Bingepasses  

Kanopy – Use online at kanopy.com/tcplny or download the Kanopy app to your phone or tablet for free access to thousands of movies 
How will due dates be impacted? 
Due dates will be automatically adjusted around the closure. Materials checked out on or after August 21 will be due on October 5 or later.  

Library book drops will remain open, so you can still return materials if desired. 

Don't forget, TCPL is proud to be fine free, so there are no overdue fees. 
Can I still pick up or place holds/ILLs when TCPL is closed? 
Patrons may place and pick up holds from and at any of the other Tompkins County or Finger Lakes libraries during the closure. Starting 9/1, patrons must select a different pickup library within the system when placing holds.

Holds cannot be placed on TCPL items during the closure. 
TCPL will be unavailable as a pickup location. 

Holds will resume when TCPL reopens. 
Will I be able to contact TCPL when you're closed?  
The best way to get accurate and up-to-the-minute information is right here on our website. Messages received during the closure will be responded to when the Library reopens.