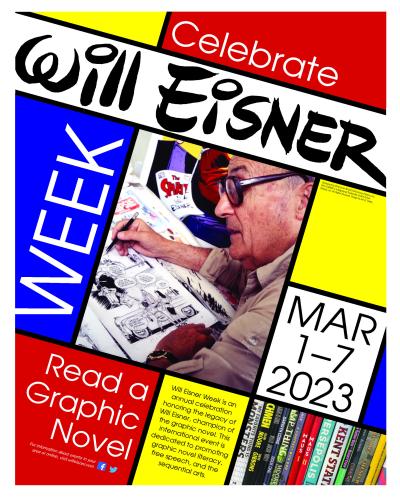 Will Eisner Week, March 1-7
Will Eisner Week is held every March, celebrating comics, graphic novel literacy, free speech, and the legacy of comics legend Will Eisner. This year, we'll be celebrating with a series of virtual and in-person events! Find out more at the links below.
 
Wednesday, March 1: Scratch Building: Mecha, Original Character, and Comic Strip Dioramas
Friday, March 3: Put Them Back!: Banned Graphic Novels We Need the Most
Monday, March 6: Virtual Panel by Panel Graphic Novel Book Club
All week long: Lunch Break Draw and Sketch in the Makerspace
Check out these Eisner Award-winning graphic novels!