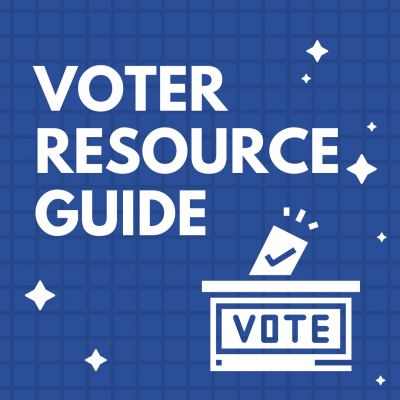 Get Ready to Vote!
A Nonpartisan Resource for the Tuesday, November 3, 2020 General Election
Register to Vote | Voting | Important Dates | Debate Schedule | Government Sites | Organizations | Fact Checking | Inform Your Vote | Local News Sites | Political Parties
Voting will be uniquely challenging this year and Election Day is fast approaching, so make sure you are prepared! Below you will find several resources to help you participate in this fundamental part of our democracy and make an informed decision.
The Tompkins County Public Library and the League of Women Voters will have a table outside the front entrance of the library for National Voter Registration Day on September 22.
You can get a physical voter registration form and/or absentee ballot application from the library. Simply send a request to Sophia at smckissick@tcpl.org or call (607) 272-4557 ext. 287; when it's ready, you can pick it up during our in-lobby hours. Registration forms must be mailed or submitted in person by October 9th; see below for more details.
Register to Vote
What you need to register:
NYS driver license, permit, or non-driver ID card
ZIP Code currently on record with the DMV
Social security number

Be a United States citizen
Be 18 years old by December 31 of the year in which you file this form (note: you must be 18 years old by the date of the general, primary or other election in which you want to vote)
Be a resident of this state and the county, city or village for at least 30 days before the election
Not be in prison or on parole for a felony conviction (unless parolee pardoned or restored rights of citizenship)
Not be adjudged mentally incompetent by a court
Not claim the right to vote elsewhere

Check your voting status – Are you registered to vote? Is your information up-to-date? Also shows your Election Day polling site.
In person or by mail – Deliver your voter registration form to the Board of Elections office at 128 E. Buffalo St., Ithaca NY.
Online voter registration – No need to send in a form, you can register to vote online through the DMV.
Voting
Voting locations – Find your polling place.
In-person early voting – To lessen the number of people at the polls on Election Day, early voting has been expanded to October 24, 2020 through November 1, 2020.
Request an absentee ballot – You can also request your absentee ballot online. This year in New York State, you can qualify for an absentee ballot due to the risk of COVID-19 by marking the "temporary illness" option.
Track your ballot – Make sure your ballot gets where it needs to be! Post Office delays may be unpredictable this year and could cause your vote not to be counted, so try to send your ballot as soon as possible.

Healthy Voting in New York – Healthy Voting helps you find healthy, secure, and safe ways to cast your ballot this year.
Military and overseas voting – Persons in the military, along with their spouses and/or dependents, may register as a military voter and receive an absentee ballot.
Restore Your Vote – Check on whether you are eligible to have your vote restored after a felony conviction. (En Español.)
Voting Accessibility – Information on your rights as a voter with a disability.
Important Dates
| | |
| --- | --- |
| Date | Deadline Information |
| September 18 | Absentee ballots begin to be mailed out. |
| October 9 | Last day to register IN-PERSON, online, or to postmark a registration form. Mailed registration forms must be received by the board of elections no later than October 14. |
| October 24 – November 1 | Early voting period. |
| October 27 | Last day to apply online, by email, fax or to postmark an application or letter of application by mail for an absentee ballot. (Please be warned that despite this deadline, the Post Office has advised they cannot guarantee timely delivery of ballots applied for less than 15 days before an election.) |
| November 2 | Last day to apply IN-PERSON for absentee ballot. |
| November 3 | Last day to postmark ballot. Must be received by the local board of elections no later than Nov. 10th. Military Voter Ballots must be received no later than November 16th. |
| November 3 | Last day to deliver ballot IN-PERSON to the local board of elections or to any poll site. |
Debate Schedule
Presidential
September 29, 2020 at Case Western Reserve University and Cleveland Clinic (Cleveland, OH) – Recording on C-SPAN
October 15, 2020 at the Adrienne Arsht Center for the Performing Arts (Miami, Florida) – This debate was cancelled, though both candidates held town halls that day: Joe Biden aired on ABC and Donald Trump aired on NBC
October 22, 2020 at Belmont University (Nashville, Tennessee) – Recording will be available on C-SPAN, and at this time is still set to go forward
Vice Presidential
October 7, 2020 at the University of Utah (Salt Lake City, Utah) – Recording on C-SPAN
Government Sites
Tompkins County Board of Elections – Provides voter information specific to Tompkins County, such as polling places and sample ballots.
New York State Board of Elections – A quick and easy way to find general election information, campaign finance disclosures, and to verify if you are registered to vote in New York.
Federal Election Commission – Official United States Government website that tracks campaign finance and donations.
Federal Voting Assistance Program – Federal voting assistance for service members, their families, and overseas citizens. Provides access to election officials and voting assistance officers to help navigate the absentee voting process.
Presidential Election Process – Learn about the Presidential election process, including the Electoral College, caucuses and primaries, and the national conventions. The Federal Government has developed a glossary of common terms used during election seasons. Perfect for new voters.
Organizations
League of Women Voters - Tompkins County – The local chapter of a non-partisan organization committed to defending democracy and empowering voters by bringing you the most up to date information available on National, State and Local Elections. [New York State League] [National League]
National Voter Registration Day – First celebrated in 2012, National Voter Registration Day is a nonpartisan civic holiday celebrating our democracy which aims to help as many people as possible register to vote.
Vote.org – A large nonprofit, nonpartisan voting information and registration technology platform.
VoteRiders – Provides 100% free assistance towards obtaining documents (such as birth certificates, change of name records), arranging rides to and from ID–issuing offices, and providing copies of ID for those eligible to vote by mail. Contact by phone 844-338-8743.
Fact Checking
Annenberg Political Fact Check – Designed to help voters by "monitoring the factual accuracy of what is said by major U.S. political players in the form of TV ads, debates, speeches, interviews, and news releases." Updated even when it is not election season. Includes information on special interest groups behind television ads.
Center for Public Integrity – A well-documented investigative journalism organization and winner of the Pulitzer Prize in 2014 & 2017.
Newsguard – Browser extension that provides an easy way to evaluate websites. "Green-Red ratings compiled by a team of trained journalists signal if a website is trying to get it right, has a hidden agenda, or knowingly publishes falsehoods or propaganda."
Politifact – A fact-checking website founded by editors of Time Magazine and in conjunction with Congressional Quarterly.
Inform Your Vote
BallotPedia – A nonpartisan "digital encyclopedia of American politics and elections." Find out who's on your ballot.
BallotReady – A nonpartisan site that allows you to build your ballot by diving into every candidate and referendum on your ballot including candidate's backgrounds, stances on issues, and experience. BallotReady lets you "explore your ballot, make informed choices, and vote!"
BestColleges.com Student Voting Guide – A nonpartisan guide designed for college students. Includes a bipartisan key issues guide and voter registration information for each state.
ProCon.org – Pros and Cons of Current Issues – Feeling overwhelmed by all the issues being debated during the 2020 Presidential Election? Start here! ProCon.org is a nonprofit nonpartisan public charity that use professional researchers and rigorous editorial standards.
Project Vote Smart – A nonprofit, nonpartisan research organization that collects and distributes information on candidates for public office.
TurboVote – A tool that makes voting easy by sending text or email messages verifying voter registration status, reminders about important election deadlines, and polling place location. Developed by the nonpartisan group Democracy Works.
Vote411 – Developed by the League of Women Voters to provide nonpartisan information to the public about both general and state-specific elections.
Local News Sites
Political Parties
Democratic Party – National | New York | Tompkins County
Green Party – National | New York | Tompkins County
Libertarian Party – National | New York
Republican Party – National | New York | Tompkins County
This page is compiled and maintained by librarians at the Tompkins County Public Library. Links to political parties and/or campaign websites are for informational purposes only and do not in any way constitute an endorsement.
Last updated October 16, 2020