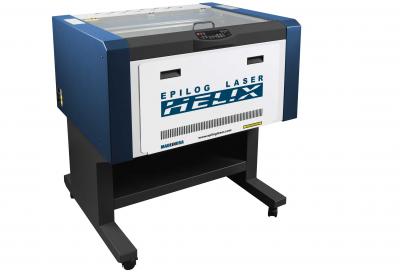 Update from TCPL's Makerspace!
Hello from the TCPL Makerspace!
Today I want to share one of our tools with you, the Epilog Helix Laser Cutter and Engraver! A versatile machine, the Epilog Laser can both cut and engrave many materials and objects. A few ways one could use the Epilog Laser:
Engrave a favorite photograph onto 1/8 – 1/4 inch wood, then have the machine cut it out into an ornament or jewelry shape.
Engrave a glass or acrylic mirror with an image or text.
Quickly prototype a digital file using cardboard, then later make it out of wood, acrylic, or chipboard.
Quickly cut out pattern pieces or create unique lace with fabrics like cotton, polar fleece, felt, leather and more. Skip the cutting step, and guarantee perfect shapes!
The area that can be used in the Epilog Laser is 18 X 24 Inches in size, and it is a 50 Watt CO2 laser. The laser uses .PDF files to receive data, so you can design projects on a variety of software. We have been using the open source program "Inkscape" which can be downloaded from the internet for free! It has been working fine, and we also plan to add the Adobe Suite to our arsenal shortly.
How does the machine know when to engrave, and when to cut? Any image you send to the laser will be engraved, or rastered, with heat, in a movement from left to right similar to a normal paper printer. Variations in darkness are easy to achieve – think about your images in black and white, to imagine what can be rendered with the laser. If you want to cut, or vector, a shape out of wood or another suitable material, you simply set your line width to .001 inch. This can be easily done in Inkscape and other vector programs. We are happy to help you set up and create your design in the Makerspace!
Want to give the Epilog Laser a try? Email Makerspace Librarian Cady at cfontana@tcpl.org to set up an appointment.