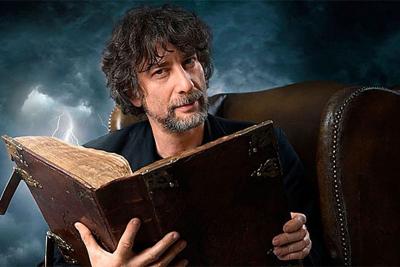 Author Spotlight: Neil Gaiman
This week's author spotlight is English writer, Neil Gaiman. Gaiman is an accomplished writer of short fiction, novels, graphic novels, comics, and film. I absolutely love the way Gaiman describes his characters and the worlds around them, creating dazzling visuals inside the reader's head that stick with you long after you put the book down. He manages to balance elements of fantasy, horror, and wit seamlessly, without clutching to the familiar clichés one would expect from those genres.
He has won several awards, including the Hugo, Nebula, and Bram Stoker awards, as well as the Newbery and Carnegie medals. His stories are filled with compelling characters and intricate plots that take you to surreal, and sometimes nightmarish, worlds.

Many of Gaiman's works have been adapted into film and television, including his fantasy novel Stardust, which starred Robert De Niro, Michelle Pfeiffer and Claire Danes, and the novel Coraline, which was adapted into a stop-motion feature starring Dakota Fanning and Teri Hatcher.
Below you will find a list of my favorite Neil Gaiman novels for adults. Enjoy!

American Gods
Neverwhere
Ocean at the End of the Lane
Anansi Boys
Bad Omens

J. Burns, 8/27/2018