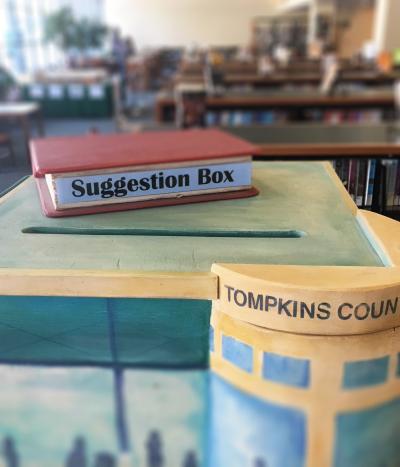 June & July Patron Comments
Comment:  We are learning more and more screen time is bad for young kids, so as we limit it, maybe longer checkout times or renewal options for kids DVD.
Response: Recently we changed our renewal options so that all materials can be renewed once.
Comment:  Thank you for the books.  I love the books.
Response: You're welcome; we also love books, and the Director is one of the Ambassadors for "Ithaca is Books," a Buffalo Street Books initiative that celebrates the book love in our entire community.
Comment:  Dear library, Please do not allow artists to exhibit graphically violent or sexual images in the library.  I'm still traumatized by the girl cutting into her lips and gums with the dental floss.  
Response: Our library has a commitment to freedom of information in art and literature. Here is our policy on art exhibits: http://www.tcpl.org/art-exhibit-policy
Comment:  I just wanted to give my heartfelt thanks to the person in charge of cleaning that last week left my room all set up for my classes.  It was a super wonderful surprise and I was super thankful for it!
Response: How nice of you to take the time to thank us; the facilities staff are all helpful and do a fabulous job helping the library host all of our programs.  We are grateful for their thoughtful care of the library!
Comment:  Please send out an additional email reminding that a book is due.  It's very confusing to get an email saying that a book still has renewals available and then find out a few days later that the book is actually overdue.  Send out an email when a book is overdue!   Be more generous with emails reminding about overdue books.  Thank you.
Response: We're sorry if the library notices have been confusing; they are set for all 33 libraries system-wide, and we are always looking to improve the process. This suggestion has been sent to our Access and Circulation Services Department.
Comment:  The study rooms in the youth section are often very dirty, especially table tops.  Is it possible for them to be cleaned more often?
Response:  Thank you for bringing this to our attention.  We have a wonderful facilities staff, and a library that is heavily used. Your alerting us can help us keep our library beautiful. Thank you.