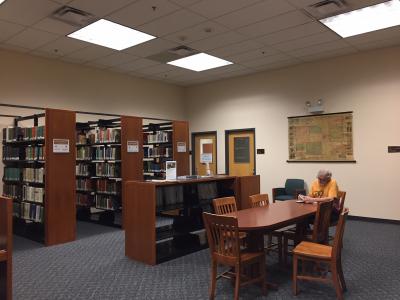 Local History Spotlight
Have you visited our new Local History Room yet?  Located on the eastern side of the library, the Local History Room offers a wealth of material useful for genealogical research as well as general information about the history of Ithaca and the surrounding areas. 
The space is outfitted with two microfilm machines that can be printed from and have USB ports so you can copy pages or selections from the documents you view.  The library has an extensive collection of newspapers on microfilm including The Ithaca Journal from 1870-present, The New York Times from 1939-2012, as well as a wide selection of small local newspapers with from the 19th century to the present. In our non-circulating reference collection you will also find every Yearbook from Ithaca High School from 1905 onward, the Ithaca Directories from 1869- 2000, Passenger and Immigration Indices, the Courtney Crawford Local History Collection and much more to aid you in your research.  The Local History Room also features a collection that includes local memoirs, histories of the wineries, geological studies, Native American histories and more.
In addition to the physical collection we have digitized some of our books and databases of birth and death records.  They are posted to our website.  These can be found here: http://www.tcpl.org/digital-books.  Finally, you can access HeritageQuest, a free site that is powered by Ancestry.com, through the TCPL website from our Local History & Genealogy page under the 'Research & Learn' tab.
Watch our Event Calendar for upcoming Local History programs!
Meghan Molloy