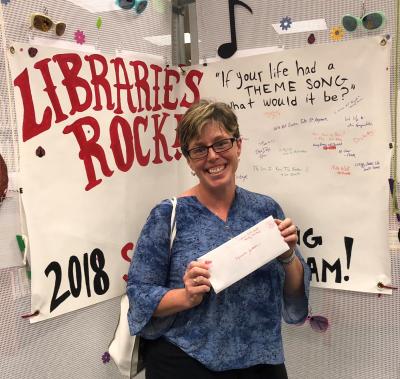 Program Highlights: TCPL Rocks Summer Reading!
TCPL Rocks Summer Reading!
http://tcpl.ny03.readsquared.com/
The 2018 Adult Summer Reading Program, LIBRARIES ROCK! is in full swing!
I'm super-excited about our summer program this year. We're using READsquared, New York State's new reading program software, where you log books and activities online and play games to earn points and win prizes. The theme, "Libraries Rock!" provides the platform for meshing literature and music this summer.
TCPL's Adult Summer Reading Program opened June 23rd. In the first week, 32 people signed up and were entered in a random drawing for passes to a Summer Mainstage event donated by the Hangar Theatre.  Michelle Jackson, our lucky "Early Registration" winner, wrote:
We used the tickets last night and had a family night out with our 13 [year] old twins. My daughter has always loved the Chicago soundtrack and it was my son's [first] night out to the theater!
It's not too late! There's still time to sign up, participate and win prizes. Through August 4th, you can log books and activities to earn 1000 points and complete the program.
It's easy. Each book logged is worth 500 points. Share reviews of two books and you're done! Or you can earn points by attending Library programs or other activities, such as Name That Tune and If Your Life Had a Theme Song, What Would It Be?
Here's a current list of some of the ways to earn points toward your goal of 1000!
    Each book read and reviewed = 500 points (includes print, audio and digital editions)
    Film screening of La La Land, July 11, 2018 = 250 points
    MicroLit + Music Mashup Writing Workshop, July 27, 2018 = 250 points
    Read and review Station Eleven by Emily St. John Mandel and discuss on August 2, 2018 = 750 points!
    If Your Life Had a Theme Song, What Would It Be? (Library display or online) = 100 points
    Name That Tune (Online) = 100 points
You can win a great prize from the generous donors and supporters of the Adult Summer Reading Program. Prizes will be randomly drawn at our Ice Cream Party on August 6th.  Check it out!
    Buffalo Street Books - $25.00 gift card
    Cayuga Chamber Orchestra – 2 passes to 2018/19 season
    Cayuga Creamery - $10.00 gift certificate
    Cinemapolis – Punch pack 5 movie pass
    Gimme Coffee! Two $10.00 gift cards
    Greenstar Natural Foods Market – Two gift pack including $5.00 coupon and a surprise!
    Ithaca Coffee Company - $20.00 gift certificate
    Just a Taste - $35.00 gift certificate
    Purity Ice Cream – Three coupons for 1-scoop ice cream cones
The Adult Summer Reading Program is part of TCPL's year-long Reading Challenge that began January 1, 2018 and runs through December 15, 2018. So far this year, participants have won monthly mini-challenges and prizes, including a gift certificate donated by Bool's Flower Shop, two Cinemapolis punch pack 5 movie passes,  and 3 passes to Escape Ithaca's Escape Room.
Thanks so much to our generous community supporters!
Summer Reading Program? It's not just for kids anymore! Libraries Rock!
For more information, contact Librarian Joyce at jwheatley@tcpl.org.