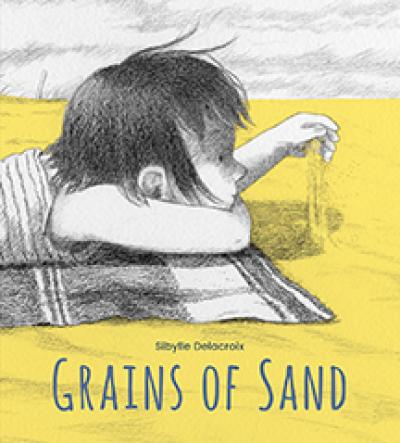 Summer Reads Spotlight: Grains of Sand
Grains of Sand by Sybille Delacrois is a beautifully illustrated picture book about feeling blue when you return from a fun beach vacation.  The young protagonist uses her imagination and the sand that remains in her beach shoes to extend the vacation fun.  What would happen if we planted the grains of sand??
There are many ways you could extend this book with activities that are related to the beach, sand, gardening, and even emotions.
After reading Grains of Sand:
Like the young girl in the story, use the sand as a sort of souvenir.  Gather some sand in a small jar from beaches you visit.  Label them and add a tiny seashell or two.  Use this as a way to revisit happy memories you had on that particular vacation.  Compare different sands from different beaches.  How and why are they different?
Use the idea of planting to enjoy some gardening with your children and learn about what things will grow and what won't (other than in our imaginations!).  Check out other books on seeds, gardening, and vegetables.  Plant your own windowsill garden or plant something in the yard and learn how it grows.
After a vacation, draw pictures of some of the happy memories you had during the vacation.  Use a binder and some sheet protectors and make it in to a vacation book!  Include little souvenirs you've accumulated – ticket stubs, photographs, brochures.  Not going away?  Draw pictures of an imaginary vacation of your dreams!
"Grow" your own beach at home.  Some play sand and a kiddie pool can create hours and hours of fun outdoor play.
Happy Summer!
- Sarah