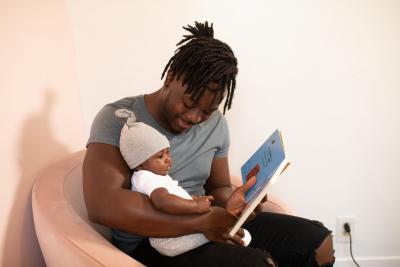 Board Book Circulation
UPDATE 10.26.20: We have been closely following the literature on COVID and its transmission via surfaces. The REALM project referenced below has been helpful in giving us some guidance, but as we learn more about the virus, REALM used scenarios that relied on transmission through touch instead of airborne particles. COVID is transmitted most often via airborne particles. We will continue to quarantine all items for 72 hours, but will now begin to circulate board books again. We will also continue to offer Board books in bundles, as well as being about to circulate individual titles. As always, we encourage patrons to practice excellent hand hygiene while handling shared materials.
You may notice when you go to request a specific board book, that you can no longer place holds on titles. We have done this in an abundance of caution to keep our littlest patrons and our staff as safe as possible and to allow us to quarantine that collection for a slightly longer time. This decision is based on a recent report from the REALM project (Reopening Archives, Libraries, and Museums) that is currently being conducted by Online Computer Library Center (OCLC), the Institute of Museum and Library Services (IMLS) and Battelle research labs. We are now circulating our board books in Board Book Bundles only.
Staff have curated several themed Board Book Bundles for you to choose from. To request these bundles, please use our regular book bundle request form, contact us at 607-272-4556, or request through askalibrarian@tcpl.org. Staff will notify you when the bundle is ready to pick up through our curbside appointment or drop-in lobby service.
Available themes:
ABCs
Babies (books with photos of babies)
Baby Signs
Baby's Day
Bedtime
Books You Can Sing
Colors
Counting
Farms
Feelings
Food
Grab Bags (#1 - #8)
High Contrast Books (black and white images for the youngest babies)
Interactive Books with moveable parts
Lift-the-Flap
Love
Nursery Rhymes
Ocean
Out & About
Opposites
Pets
Potty Time
Seasons
Shapes
Spanish Titles
Things That Go (trains, trucks, cars, boats)
Wild Animals
Your Amazing Body
We quarantine these items for additional time at the library. If you desire, you are welcome to further quarantine them at home as well, prior to enjoying them.
Please keep all the books together in their provided reusable bag when you return them to assist in this process. Because they do not fit in the outside bookdrops, please bring these with you to your curbside pickup appointment or when visiting for in-lobby pick up and staff will take care of them.
Thank you!