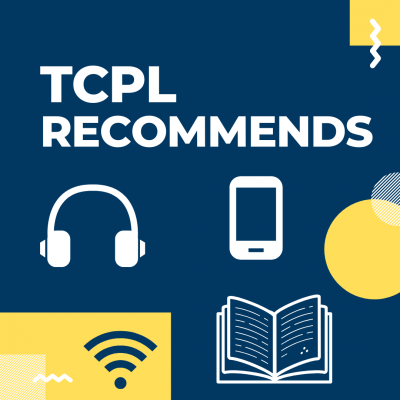 TCPL Recommends, Spring 2020
Looking for something good to read, watch, or listen to? TCPL staff has recommendations for you! Many of the following are available to download or stream, and we've noted where you can find them online. Happy exploring!
If you have any questions about the following titles, just Ask a Librarian!
Books
Follow Me to Ground by Sue Rainsford (available as an ebook on OverDrive and the Libby app)
I loved this book. Deeply weird, earthy, and visceral but still easy to understand and enjoy. So original. I definitely plan to revisit this one. -Kate, Youth Services
The Flatshare by Beth O'Leary (available as an ebook or audiobook on OverDrive and the Libby app)
I'm on a quest to de-stigmatize romance novels. This one is so very charming and sweet. I love the note-exchanging and letters as a way of getting to know someone. It made me want to get more pen pals (not necessarily romantic ones). -Kate, Youth Services
The Glass Hotel by Emily St. John Mandel (available as an ebook or audiobook available on OverDrive and the Libby app)
I'm convinced this author could write about anything and make it fascinating and stunning. This one explores a fictionalized Enron scandal leading to the 2008 economic crash. It's not a topic that I would normally be interested in reading about but she makes it so good. I have a deeper understanding now of that scandal and its impact on both a societal level and a personal level. The story is told through the murkiness of our own morality and responsibility to each other. The main characters were all very compelling. I couldn't put it down. -Cassie, Youth Services
After the Flood by Kassandra Montag
WOW what an adventure. This was basically a perfect storm (lol) of everything I enjoy in a book. Dystopia, strong female lead, adventure, action, violence but not gratuitous or overly sexual. Oof this was great. I didn't see the ending coming, but the whole book stood strong even without the strong ending. Highly recommended! -Cady, Information & Learning Services
The Alice Network by Kate Quinn (available as an ebook or audiobook on OverDrive and the Libby app)
I love how this nail-biter of a novel wove together characters from both of the World Wars. The three main characters were utterly different from each other in almost every way, yet they managed to come together, bravely resurrecting their various demons, and make their shattered lives whole again.
Kate Quinn's The Alice Network was a fabulous historical novel. One of those wonderful stories that I became so invested in that I didn't want it to end, even though at times, it ripped my heart wide open. Also, such crucial part of any good audio book, the narrator, Saskia Maarleveld, was brilliant. -Kelly, Youth Services
Ghost Wall by Sarah Moss (available as an ebook on OverDrive and the Libby app)
A short and stunning book. I actually read the ebook on my phone, which I never do. Silvie's family is spending a few weeks in the woods reenacting Roman British life with a professor and his college class. Things go bad when it becomes clear that Silvie's abusive father has little regard for her safety. A well handled story told from Silvie's perspective, with a satisfying end. -Cady, ILS
Terrier (Beka Cooper #1) by Tamora Pierce (available as an ebook or audiobook on OverDrive and the Libby app)
Tamora Pierce is one of my favorite authors of all time. Her stories are fantastic and empowering, full of quality characters and magnificent imagery. you will get sucked in and you will feel as if you are apart of the story. Very comparable to JK Rowling's Harry Potter stories. I have read all of her stories, they are well written, and each unique. They all take place in the same universe, at different times, and you will notice the crossovers. You can start with the first book of any of the series, and then read everything else. -Ellen, Access and Circulation Services
The Strange Case of Dr. Jekyll and Mr. Hyde by Robert Louis Stevenson (available as an ebook on OverDrive and the Libby app)
This is an interesting tale. You think you know the tale, from all those re-makes and re-imaginings, but you do not. You thought you did, the plot is alluring, but the original is a different tale. Prepare to read a tale different from any imagining any director has done. A good story, of terror, and of fright. A story that really hits the soul. -Ellen, ACS
Movies and Television Series
Trolls World Tour (available to rent on Amazon Prime and VUDU)
Never in a million years would I have expected this movie about Trolls, those lovable dolls from my youth, to be a lesson in colonialism, racism, and cultural appropriation. But guess what, it was. It's also super cute and filled with music, jokes, and the animation is great. -Woody, ACS
The Last Dance (Sunday nights in April and May, on ESPN and the ESPN app--coming to Netflix July 2020)
This 10 episode documentary is a trip down memory lane for fans of the Chicago Bulls and the NBA.  It covers the events of the 1997-98 season, in which Michael Jordan and the Bulls won their sixth NBA championship.  What makes it interesting is all the different personalities involved with the team, and how the players and coaches were able to put their differences aside and focus on the ultimate goal of winning a third consecutive NBA title - for the second time in team history! -Tom, ILS
Podcasts
How Did This Get Made (available wherever you get your podcasts)
Comedians Paul Scheer, Jason Mantzoukis, and June Diane Raphael watch a movie and then ponder the question, "How did this get made?" It's laugh out loud funny due to the three different styles of the hosts and their quick, hilarious takes on films you may also have been curious to know how they made it to the big screen. -Woody, ACS
Music
Fetch the Bolt Cutters by Fiona Apple (available on Spotify)
Leave it to industry bad girl Fiona Apple to release an album during quarantine. Her latest--the first in 9 years--was largely recorded from her home and various household noises (clanging pots, barking dogs) are incorporated into the production. It is characteristically ornery and I mean that in the best way. Who isn't a bit ornery, these days? Listening to it, and marveling at Apple's willingness to be vulnerable and imperfect and experimental with her most personal instrument, her voice, I got the distinct feeling that she was speaking to us in our homes, from her home. The quintessential stay-at-home album. -Asia, ACS