Exhibits
Celebrate ReUse 2!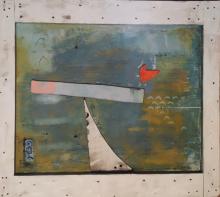 Avenue of the Friends
December through February
As a response to ever-filling landfills, overproduction, and diminishing natural resources, CELEBRATE ReUse 2! is meant to inspire visual artists and community members to continue shifting the paradigm and take reuse to a new level. This  creative reuse enlightens and sparks imagination, demonstrating that artistic creativity and learning can take place anywhere and everywhere—and with all manner of materials—and that "junk" has value for those who can see meaning and aesthetics beyond the discarding of things. Submitted work in this exhibit will   incorporate materials that would otherwise be thrown away. Artists include Victoria Romanoff, Alice Muhlback, Alice Gant, Diane Colman, Robin Tropper-Herbel, Emily Sullivan, Clair Pennels, Teresa Yatsko, Nancy Malina, Eva M. Capobianco, Jess Orkin, Laura Robert, Maude Rith, Sandy Yahner. This show is a partnership of Tompkins County Public Library and the Ithaca ReUse Center. Curated by Robyn Wishna. Avenue of the Friends. December 6 through end of February 2020.
(Im)migration
North Reading Room
December through February
During the summer of 2019, a group of Ithaca teens traveled to Valle de Bravo, Mexico, to participate in an international chamber music festival. For many, it was their first international trip, and all made strong connections with the Mexican students they met there. Upon returning home, one student in the group invited a group of friends, some of whom had been with her in Mexico, to a retreat with her faith community. There, the Ithaca youth made some other new friends from Canada. Motivated by their newfound friendships in Mexico and Canada, the group invited more friends from Ithaca to join them in learning about migration, immigration, and current events at the US-Mexico border, and to create an artwork in response to their summer experiences. The final group numbered about a dozen participants here in Ithaca. A companion project is underway in Valle de  Bravo.
Sneakers, Skateboards & Toys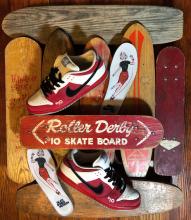 Glass Cases Across from Teen Center
December through February
Jay Stooks, a local artist and resident of Ithaca, will be displaying rare sneakers, skateboards, toys and other related artifacts from his private collection. Over the last two decades collecting sneakers, skateboards and toys has evolved from a pastime of an underground subculture to a booming mainstream passion. Jay has spent the last 10 years curating a unique display that will highlight the art and artist of these collectibles.