Exhibits
Call for Curators and Emerging Curators 2020
We're seeking experienced and new curators to curate our 2020 art exhibits centering on the theme of "myth."
We invite curators to present exhibits that address this theme in thought-provoking ways. The word "myth" has two basic definitions. It is a traditional story that explains a natural or social phenomenon, sometimes involving imaginary or supernatural beings. It can also be a widely held, but false, belief or idea. Myths can explain origins, but they can also, sometimes, be a barrier to true understanding.
We'd like to invite curators to propose shows featuring art that centers on one or more definitions of myth. The art can ask and/or answer questions such as: Who is creating this myth, listening to it, and telling it? Is it fantastical or rooted in reality? Is it a story that's been told about someone or something, that is untrue? How has the perpetuation of the myth shaped the evolution of a person, place, or community?
The deadline for submission is September 15. Download the PDF Call for Curators document for information about how to apply.
All Access Art Club Show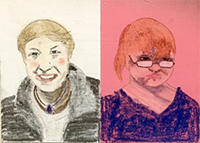 August-September
Curved Wall
Showcasing the works created over the summer by members of All Access Art Club, a group consisting of artists with developmental disabilities, friends and families.  
Infinity In a Box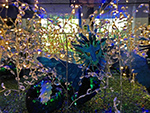 July-September
Avenue of the Friends
Boxes hold things—they both hide and protect the contents. Shadow boxes, on the other hand, show little worlds just as dollhouses do. Children have puppet theatres to present dramas with some characters as small as fingers. Set designers create mock-ups for scenes in boxes. Boxes both show and contain. Like an artist beginning a drawing, the edges of the piece and space inside are the first considerations when the creator begins to work. These boxes may also hold what a world can be: outer space, different worlds, or new versions of reality. Artists include Chris Coronel, Ariel Bullion Ecklund, Carla Elizabeth, Jim Garmhausen, Stephan Petrella, Gary Rith, Maude Rith, Laura Rowley, Leeny Sack, Werner Sun, Emily Millen Walsh. Curated by Maude Rith. Made possible (in part or in full) with funds from the New York State Council on the Arts, administered by the Community Arts Partnership.
Help Scott Hitz Create the Ithaca Giant!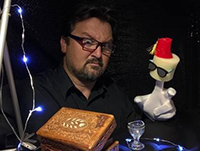 2019 Artist-in-Community
Scott Hitz, the recipient of an "Artist in Community Grant," a program of the New York State Council on the Arts, administered by the local Community Arts Partnership, needs the community's help to build the story for the giant parade-style puppet called the Ithaca Giant, which he will create during his tenure. If you love creating stories, and characters and using your imagination in general, come join us for a community interactive event on September 19 from 6 – 8 pm in the Borg Warner Room.
Each workshop will focus on a different aspect of telling the Giant's story: writing, visual representation, and physical manifestation. You're welcome to participate in any and all workshops you'd like. Workshops will be active, engaging, and fun, and pizza and drinks will be provided!
Made possible (in part or in full) with funds from the New York State Council on the Arts, administered by the Community Arts Partnership.
Join us for Gallery Night on October 4, 5-8 pm
At 6:15 in the Borg Warner room, Zoe Learner Ponterio, Manager of the Spacecraft Planetary Imagine Facility on Cornell campus, will present the talk "As the Human Eye Could Never See." Join us for a journey through the decades to see how far we've come in our quest to explore the Solar System through our robotic eyes.
We will also be joined for the evening by the Pop Up Open Art Hive, an inclusive art studio hosted by a group of artists, dancers and creative arts therapists looking to build accessible and free art spaces around Ithaca and Tompkins county. Come make art with us! All are welcome.
Exhibits opening that week include: Postcards from Beyond, Three Artists Interpret Botanical Beauty, Winners of the Equity Statement Juried Teen Art Contest, and a Star Wars Collection.
Postcards from Beyond: A Timeline of Exploration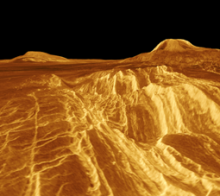 October-December
Avenue of the Friends
Journey through time and witness our dramatic advances in capturing the wonders of the Solar System in photographs taken from beyond the confines of Earth. This artistic and historical exposition features the first photographs ever taken in space of various worlds, paired with some of the most spectacular images to date. Curated by Zoe Learner Ponterio, Manager, Spacecraft Planetary Imaging Facility. The History Center also contributed to this exhibit with images from local newspapers from the 60's around the theme of space exploration.
Made possible (in part or in full) with funds from the New York State Council on the Arts, administered by the Community Arts Partnership.
Three Artists Interpret Botanical Beauty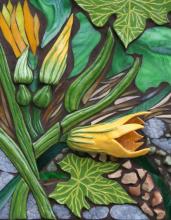 October-December
North Reading Room
Artists Camille Doucet, Marjorie Hoffman, and Rosemary Glos share a love of plants, interpreting this love in their own unique ways. 
Star Wars Collection
October-December
Wall Cases
On loan from Jonathan Serrano. Jonathan is a graphic artist working at T-Shirt Express on the Commons in Ithaca, and lives in Interlaken with his girlfriend and two cats. He likes Star Wars and started his collection in 2004.