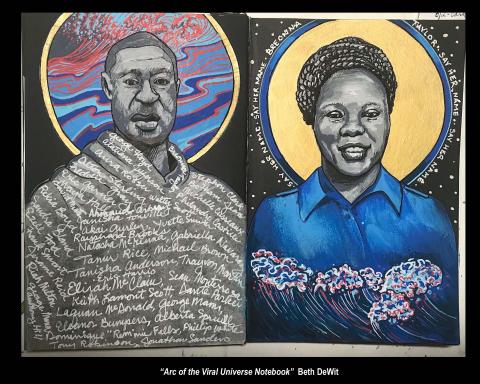 Arc of the Moral Universe and Arc of the Viral Universe Notebook Projects
Curated by Carla Rae Johnson
September 3 through October 29
These 90 notebooks, completed between 2018-2021, reveal the musings, passions, concerns, and dreams of artists, writers, and creative thinkers who have shared your world during these challenging times. Displayed here in glass cases, each notebook is open to a two-page spread of text or images to give you just a glimpse of what lies inside.
Curator/"Arc-ivist," Carla Rae Johnson describes the origins and intentions of these two profound and timely projects:
"In recent years, I have been increasingly concerned about the trajectory of justice in our country. A quote by Theodore Parker was recurring in my mind:
'I do not pretend to understand the moral universe, the arc is a long one, my eye reaches but little ways. I cannot calculate the curve and complete the figure by the experience of sight; I can divine it by conscience. But from what I see I am sure it bends towards justice.' Theodore Parker 1853 (quoted by Dr. Martin Luther King, Jr., and President Barack Obama)
Does the arc indeed bend towards justice?"
Join us for a virtual Curator Talk with Carla Rae Johnson on Thursday, October 7 from 6:30 - 7:30 pm.
Join us for Journal as Object: Creating Origami Notebooks/Zines with Amie Oliver via Zoom on Thursday, October 14 from 6:30 to 7:30 pm.
View all of the September Gallery Night participants!