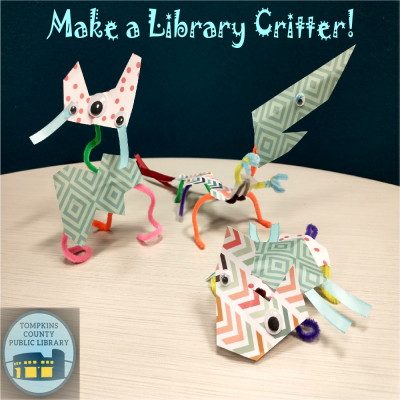 Take and Make STEAM Kits: Make a Library Critter!
Thank you for crafting with us! All of the current Take and Make kits have been claimed and are unavailable at this time. We're putting together a new Take and Make kit that will be available sometime in March. Any questions or comments, please contact Joah Tang, Library Assistant, by email at jtang@tcpl.org.
Find some glue and grab a pair of scissors because it's crafting time! The TCPL Take and Make kits are back and we are excited to share with you a new kit full of fun crafting supplies.
TCPL is offering first-come, first-served Take and Make STEAM kits for families. These free kits contain a STEAM-based craft that families can work on together. While supplies last, families can pick up a kit during in lobby days or with their curbside pickup.
The current kit is "Make a Library Critter" and encourages families to use their imagination and recycling to create one-of-a-kind creatures.
When using curbside pickup, please indicate your interest in a kit when you call to notify us of your arrival. Be aware that supplies are limited and we cannot guarantee there will be kits available. On lobby days, simply pick one up in the lobby area. Happy crafting!
If you have questions or comments please contact Joah Tang, Library Assistant, at jtang@tcpl.org or 607-272-4557 ext. 286.