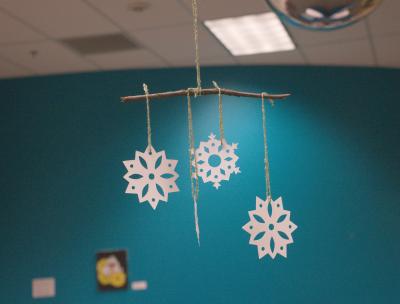 Take and Make STEAM Kits for Families
Thank you for crafting with us! All of the current Take and Make kits have been claimed and are unavailable at this time. We're putting together a new Take and Make kit that will be available sometime in the new year. Any questions or comments, please contact Joah Tang, Library Assistant, by email at jtang@tcpl.org.
We miss making crafts with you, so now we're sharing our supplies so you can make some crafts at home!

TCPL is now offering first-come, first-served Take and Make STEAM kits for families. These free kits contain a STEAM-based craft that families can work on together. While supplies last, families can pick up a kit during in lobby days or with their curbside pickup.

The current kit is the Snowflake Mobile STEAM kit and incorporates the physics of balance with some outdoor backyard adventure!

When using curbside pickup, please indicate your interest in a kit when you text or call that you have arrived for your curbside pickup. Be aware that supplies are limited and we cannot guarantee there will be kits available. On lobby days, simply pick one up in the lobby area. Happy crafting!
Questions? Contact Joah Tang at jtang@tcpl.org.