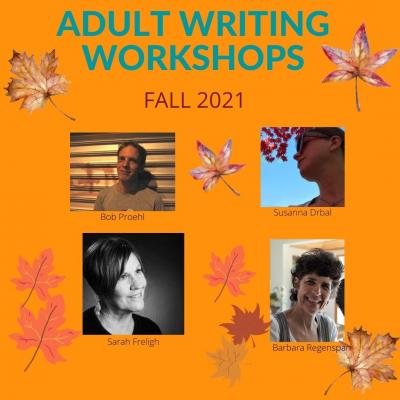 Adult Writing Programs Fall 2021
As Fall approaches and nightime hours lengthen, my mind turns from overgrown grass, flourishing weeds, flowers and bug bites to my own literary pursuits. Ideas left simmering in the heat are bubbling up, boiling over. TCPL will be hosting four amazing workshops to help with that. Register for a class and honor your creative mind. You won't need to leave your house. Everything will be on Zoom. What you write may be just what somebody needs to read!
September
Sometimes in order to write truthfully about the real world, you have to leave it. Join Ithaca author and Library Literati Trivia Host, Bob Proehl, for The Everyday Fantastic, a three part online adventure, Tuesdays, 5:30-7 PM, September 14th, 21st and 28th. Registration for the first event puts you in the workshop for all three sessions.
October
Sarah Freligh returns to TCPL to  discuss how poems can get beyond the "I" of the beholder. Beyond What the I Can See : Point of View for Poets will draw inspiration from published work to create original poems from a series of guided prompts. Don't miss this opportunity to learn from an award-winning poet and flash superstar. Saturday, October 9th, 10:30 AM to 12:00 PM.
Halloween's around the corner and Susanna Drbal's new workshop makes me think of masks, costumes and disguises! Finding a Home for Your Story: a 'Hermit Crab Essay' Writing Workshop will prompt you to behave like a hermit crab and borrow different structures as shells for your stories. Any form—a to-do list, instructions, a recipe, a definition—can allow opportunities for humor, deeper exploration, and poignancy. A series of three online sessions: Mondays, 6-8 PM, October 11th, 18th and 25th.  
November
Just in time for Thanksgiving, Barbara Regenspan takes a fresh look at crafting poems with Gratitude in the Face of Personal and/or Global Loss. Barbara will lead participants in experimentation with odd glossaries and the use of template poems to unlock unconscious depth, including humor. A perfect launch into the holiday season in a three-session series on Mondays, Nov. 1, 8th and 15th, 7-8:30 PM.
Whew!  That's all to announce for now! I'm looking forward to Fall. Contact me if you have any questions jwheatley@tcpl.org.
Joyce
Librarian