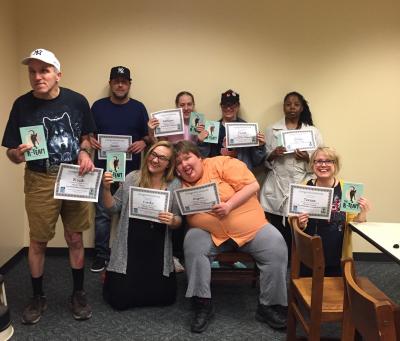 Program Highlights: TCPL's Next Chapter Book Club
The Adult Book Club highlighted this month is The Next Chapter Book Club.  The book club was made possible with a grant from the Finger Lakes Library System and started in September of 2017. It was formed in partnership with the Challenge Workforce Solution's Community Hab program.  Every Thursday, the group meets in the Large Study Room.  Each member of the group takes a turn reading the book and as we read, we discuss the book.
Since the club started, the group has finished three books and recently started reading Lois Lowry's The Giver.  The books have included James Patterson's Bloody Valentine, about a Valentine's day that ends in murder, From Scratch by Gail Anderson-Dargatz, a story about a woman who dreams of owning a bakery and makes it a reality and The B-Team: The Case of the Angry First Wife by Melodie Campbell, about a team of vigilantes that catch a diamond necklace thief. 
After the group completes a book, they get a certificate and a speaker visits.  For Bloody Valentine, Ithaca Police Officer Jamie Williamson discussed crime investigation. For the book From Scratch, Trumansburg's Wide Awake Bakery discussed running a bakery and shared some of their cookies and breads.  After we finished The B-Team, Pam Stonebraker from the SPCA came in to talk about the important work of animal shelters. Two cats made a surprise appearance.
A big thank you to Cady Fontana, Mehveeen Quaraishi, our steadfast volunteer, and Meghan Molloy for helping with the club.  We always have a fun time!
Teresa Vadakin