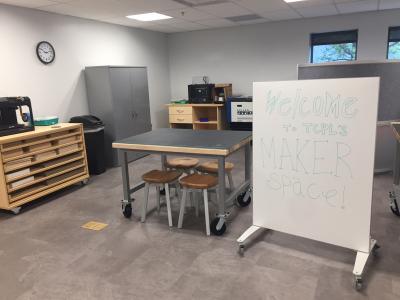 Update from TCPL's Makerspace!
Find out what is happening with TCPL's brand new Makerspace! Seeking volunteers, starting creative programs, and building expertise.
Hello Makers!
I am excited to introduce myself – my name is Cady Fontana, and I'm the newly appointed Makerspace Librarian. I have a Bachelor's in Fine Art with a concentration in Fiber Art, so the opportunity to use my creative skills during the work week was too tempting to pass by! My duties will include creating and finding dynamic adult programs for the new space, coordinating the other librarians at TCPL as they create all-ages programs, and keeping the space transforming and broadening to include ever more tools and opportunities!
So what are we up to? As we get started, we are building our roster of volunteers, community groups, and like-minded folks who want to share ideas and skills with the community. We want to offer a wide variety of classes, from using our high-tech 3D printers and embroidery machine, to honing fine art abilities, to learning basic skills like sewing on a button or re-wiring a lamp.
We are learning too! While librarians are *highly* skilled individuals (and humble!) we don't know how to do everything. That's where you come in! We need volunteers to make the space really work. This could mean teaching a one time "skills lab" drop-in session, or creating a regular schedule of times when you make yourself available for community members to ask questions and learn new skills. We love the idea of "each one, teach one" – meaning that when we show a maker a skill, we hope that they will return and share their new skills with someone else. What skills can YOU share? Get in touch – no idea is too big or small.
What about drop-in hours? This is the most commonly asked question we get, and while we don't currently have a drop-in schedule, we plan on having less-structured times in the space soon as we increase our library staff skills and our volunteer roster. When we do offer drop-in hours, they will likely be focused around a specific skill or tool, which will help keep everyone safe and creating in the space.
Here we go! You might have noticed a few programs on the events calendar that will take place in the Makerspace. Programs and projects fill up fast, so if you see something that looks good, register! Reach out to me, Cady, at cfontana@tcpl.org if you have ideas, questions, or would like to learn more about sharing your skills as a volunteer. I can't wait to make stuff with you!