Latest Kit: Paper Helicopters!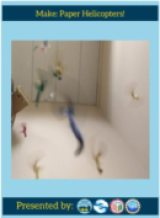 Take photos using the power of the sun!
Instructions and Material List:
Let Us Know What You Think!
Cornell Center for Materials Research (CCMR) works with families to improve the quality of STEM programs. The funding from the National Science Foundation enables CCMR to provide resources for the Take and Make STEAM kit program. You can help out by taking a short, anonymous survey using this link.