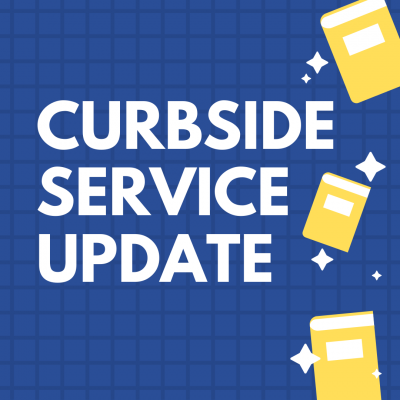 Curbside Pickup
We continue to evolve and adapt to the new reopening guidelines. See Service Update, June 2021 for more information. Below, you can learn more about our Curbside Pickup service.
Curbside Pickup Service (no appointment necessary!)
Monday, Wednesday & Friday, 11:00 am to 1:00 pm & 4:00 to 6:00 pm
How do I place a hold?
You can place a hold as you normally would, using the online catalog or by calling 607-272-4556. You will receive a notification once your hold is ready. Once you receive the notification, you can choose to take pick up at the circulation desk or schedule a curbside pickup. Note that same-day pickup is not possible.
How do I use curbside pickup?
If you would like to use our curbside pickup service, place a hold on an item and wait until you receive a notification that your hold is ready. When you're ready to pick up your items, pull into one of the two marked spots on the Cayuga Street side of the library, and call the number designated on the sign. Please remain in the spot so we know where to find you! A staff member will bring your items out to you to place in your car's trunk or back seat. Again, this process is completely contact-free, but we do ask that you wear a mask during curbside pickup.
If you have any questions about Curbside Pickup or any of our other services, email askalibrarian@tcpl.org or call 607-272-4556.
We look forward to seeing you!