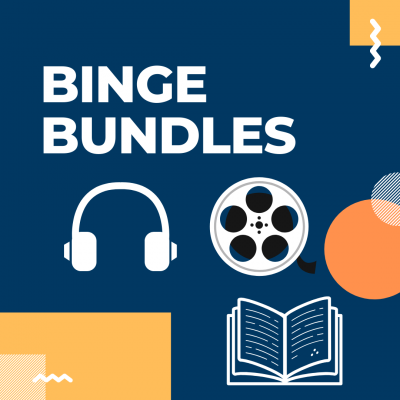 Binge Bundles for Adults
Looking for the perfect escape? We are now offering Binge Bundles – curated collections of movies, books, and audiobooks. Each bundle has 5 items on a different topic. See below for a list of available themes or let us know if there is something else you are interested in!
Use this form to request a bundle. Patrons can also email askalibrarian@tcpl.org or call (607) 272-4556.
Bundles may include books, audiobooks, and DVDs and as requested.
We ask that patrons give staff 4-5 business days to complete their requests. Patrons will be notified by phone or email when their Book Bundle is ready for pick-up.
Once your bundle is ready for pick-up, patrons can schedule an appointment for curbside pickup, or drop in during our in-lobby hours to pick up their bundles and other holds.
For more information on these processes, please visit https://www.tcpl.org/curbside-lobby-hold-pickup which gives our in-lobby hours as well as how to schedule a curbside pick-up.
---
Binge Bundle Themes
Art and Artists
Baking
Based-on-the-Book (DVDs based on books)
Beach Lover
Coming of Age
Cooking
Cooking Around the World
Cozy Mystery
Creature Features
Dystopian
Feel Good
Fright Night
Gardening
High Fantasy
Marvel/DC
Memorable Memoirs
Mind-bending
Mythology
Out of this World (Sci-Fi/Outer Space)
Poetry and Poets
Queer Romance
Romantic Comedies
Shakespeare Spinoffs
Sports
Starships and Fantasy
Thrills and Chills
True Crime
Urban Fantasy
Wars and Spies
Who Dunit?
For other themes, check out our booklists.